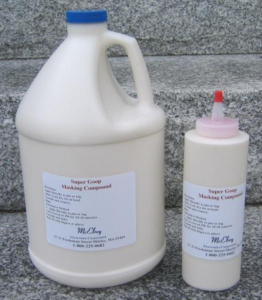 Perfect for Masking:
Lug Assemblies
P.C. Pins
Any surface that must be free of paint or varnish
Base Chemistry: Latex RubberViscosity Cp: 9000 ± 3000
Cure Time: 45 min
Parts to be protected must be free from oil, grease and silicones to ensure proper adhesion. Super Goop can be thinned with water and uncured mask left on equipment can be removed with water. A 15-mil thick coat of Super Goop  will cure in approximately 45 minutes at room temperature or 15 to 20 minutes at 66°C (150°F).Warming the surfaces prior to application will expedite cure. High relative humidity or greater coating thickness will necessitate longer cure times.
Super Goop may be exposed to oven temperatures of 82°C (180°F) and lower for up to 16 hours without degradation. At temperatures of 82-120°C (180-250°F) exposure time should be limited to two hours, at 120-149°C(250-300°F), 30 minutes.Exceeding these exposure times will cause Super Goop to soften and lose elasticity. Exposure of Super Goop to oven temperatures above 149°C (300°F) is not recommended.
Super Goop is a high-temperature flexible solder masking compoundformulated of natural latex rubber. Easily peels/pulls off.