"Use These Bobbins to Meet Worldwide Agency Requirements"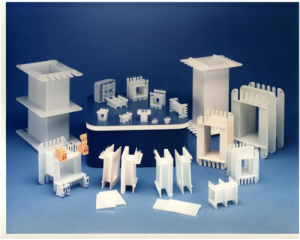 Now easily meet UL, VDE, TUV, I.E.C. and other worldwide standards!
Over 350 EI types that range from .400″ to 2.6″ center-leg lamination dimension.
Nearly 200 UI types that range from .400″ to 2.8″ center-leg lamination dimension.
Over 200 printed circuit bobbins ranging from .244″- 1.57″ center-leg lamination dimension.
44 EI bobbins consisting of 3 and 4 part sets with encapsulating cups ranging from .570″ – .881″ center-leg lamination dimension.
Over 60 bobbins to meet VDE 0551.
Thousands in stock in the USA.
Stock materials include: Durethan (30% glass-filled nylon), DuPont Rynite® 7931. DuPont Rynite® FR 530 is available by special order.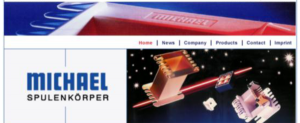 Here's how to determine which Michael Bobbins fit Which U.S. Laminations …
The Europeans do not use the "tongue" width dimension to describe laminations like we do. They use the upright part of the E to describe their laminations. For example, their upright part of their EI 96 lamination measures 96 mm in length. The tongue dimension is 32.6 mm or 1.28″. Therefore, this EI 96 lamination and the bobbins that fit it will also fit our 1¼" laminations!
First, look at the "a" dimension listed in the catalog. This gives you the tongue width of the lamination measured in millimeters. Divide this by 25.4 and you have the lamination size in inches. For example, the Michael catalog shows a bobbin EI 96/32. The "a" dimension is 32.6mm.  This divided by 25.4 equals 1.28" so this is equivalent to a 1¼" bobbin. The stack is 32 mm or 1.25".